I've lived in the Washington, DC, area for about 10 years now and have played in 5 or 6 different leagues during that time. I've played in Maryland, Virginia, and the district. It took a lot of internet searching to figure out what leagues were in my area, and then to figure out where the fields were in relationship to my home. I thought it might be helpful for others to see the soccer fields for various leagues on a map. Perhaps it will help you decide what league to join.
Got suggestions or comments for this page? Please email me at blog@alisonchandler.com !
THIS PAGE IS A WORK IN PROGRESS
Map of Soccer Fields in the DC Metro Area
Click to view and navigate.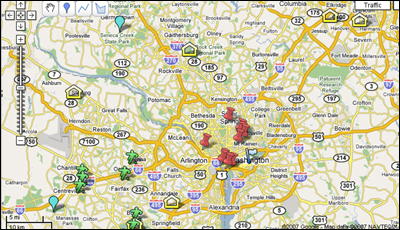 Adult Outdoor Recreational Soccer Leagues
Washington Area Women's Soccer League (WAWSL) – Mostly DC, some MD, some VA
Northern Virginia Adult Soccer Association (NVASA) – Fairfax County, VA
Howard County Adult Soccer – in and around Columbia, MD
Capital Co-ed Soccer League (CCSL) – Mostly DC
Fairfax Women's Soccer Association – Fairfax County, VA
Indoor Soccer Fields
Dulles SportsPlex – Dulles, VA
Fairfax Sportsplex – Springfield, VA
Rockville SportsPlex – Rockville, MD
SoccerDome – Jessup, MD
SoccerDome II – Harmans, MD
South Run – Burke, VA
I am only mapping fields used by adult rec soccer leagues. If you are looking for additional soccer fields in the area, check out the map at this soccer tournament website.